In case you haven't heard, Hamden Animal Control was formally asked to permanently vacate the North Haven Animal Shelter. In the lead-up to this May 1st deadline, Gimme Shelter will be having an Animal Shelter Restaurant Month during April.
Six unaffiliated restaurants are joining forces to support Hamden's Animal Shelter Gift Fund.They are:
The month is segmented to 3 events before Holy Week, and 3 events after. Each segment will feature an entertainment act. (Never a cover.) Those performances will be:
Ralph Santoro on solo acoustic guitar at The Playwright on Thursday, April 11th.
Jon & Don from Creamery Station playing on the deck* at Aunt Chilada's, overlooking Sleeping Giant Mt., on Thursday, April 25th. *(in the event of rain, music will be upstairs in the Cantina.)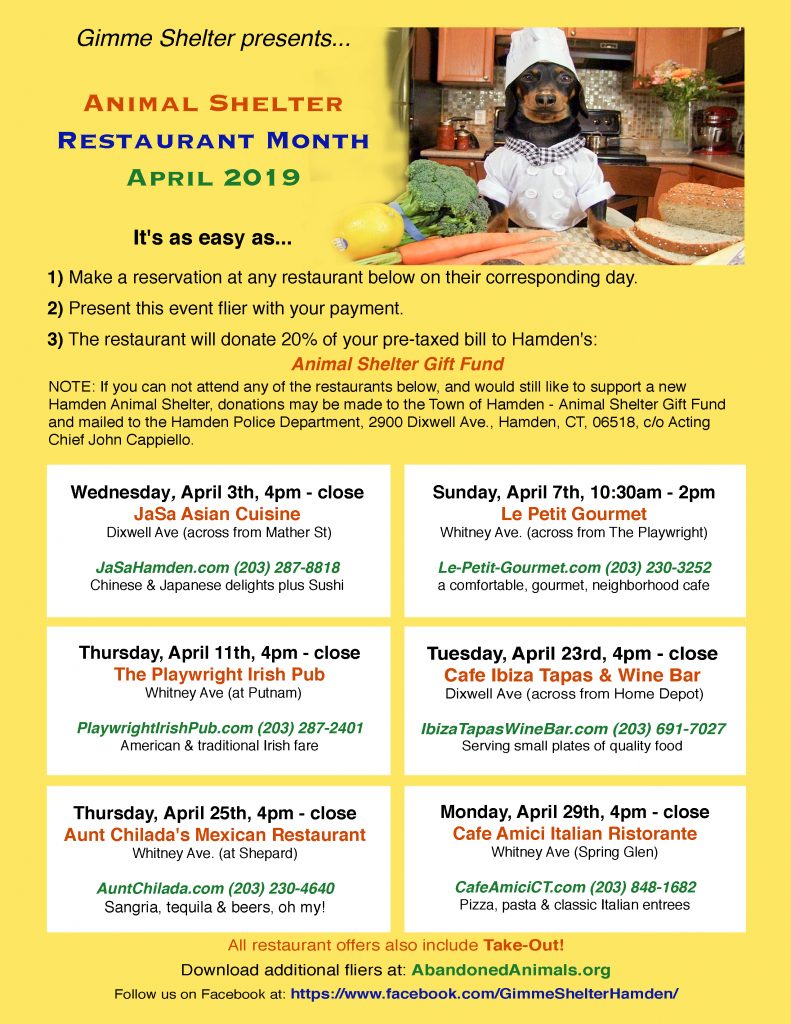 Besides the six participating restaurants, additional merchants are supporting this endeavor with donations/events of their own. They are:
Everything on this page came together in the 3 week period between the initial article on Friday, March 8th, and the March 28th deadline to this follow-up article. This is a testament to the community-minded merchants & musicians mentioned above, as well as the overall enthusiasm for this project. With the recent loss of the Hamden Post-Chronicle, we would appreciate if you would keep this momentum alive by sharing the details of our fundraiser.